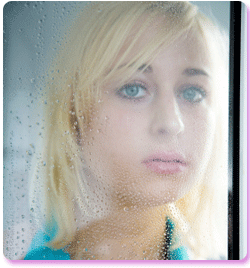 I think I started noticing my hair loss when I was mid-teens. It was not that big of an ordeal at the time, seeing as I knew I was a stressed and busy teenager (I was busy at school ALL of the time). However, as the years rolled by, I began to lose more and more hair. I am now losing hair at an exponential rate and I have no idea what to do about it.
My hair is very thin at the crown and sides of my head.. so thin that I can EASILY see my scalp. I try to hide it, but I really have nothing to hide it with, save a hat. I have gone to a doctor and a dermatologist, and all bloodwork is normal and I have no skin problems which would cause this. I was on birth control once when I was 18 or 19, but that really didn't cause me to lose any more hair than usual. I am at a loss.
I am usually not one to care about these kinds of issues, but it has consumed my thoughts to the point where there isn't a day that goes by where I don't want to break down and cry. I know that my lifestyle is not helping, but I can't really change it without changing my career goal. I am a full time student and I work part time as a lab assistant. Outside of school, I spend a lot of time studying for the MCAT and doing other school work.. all signs point to stress, but I don't know what to do about it. It would really help if there was someone to talk to or if anyone has any advice. I feel like I am falling apart…
******************************************
Dear Jessica,
I am curious to know if the doctors you've seen were able to offer you any type of possible cause for your hair loss? Women with hair loss frequently get back blood test results that "falls within normal range." I know how unhelpful and frustrating that is because we want to point to something on paper as the identifying cause then work towards fixing it. Blood test results being categorized as "normal" gets to me, because what is "normal" for me may not be normal for another 29 year old and vice versa. So perhaps there is something there for all of us that seems to be consistently getting overlooked by physicians. I write frequently about my thyroid issue I've been having, but long story short… I had my thyroid dosage raised twice in the last two years. Test results show that the increased dosage was needed and that my thyroid level with that higher dosage was normal, but it wasn't. Not for me anyways. During those 2 years I experienced more shedding than ever in the 8 years of having androgenetic alopecia. I lowered my dosage despite what the tests said and I'm now doing a heck of a lot better. I hope it continues, only time will tell. The point is, test results are not always accurate and sometimes it takes working with a physician who is willing to accept that type of reasoning and work towards finding the possible trigger of your hair loss.
Normally red flags start popping up all over the place for me when I hear the words "birth control pills," because that began the onset of my own hair loss and many other women's. But in your case it seems to not have been a factor since your hair loss began prior to taking the pill. You suspect stress was the cause of your hair loss in your midteens and currently, and you may very well be right. Some women can experience chronic telogen effluvium from stress. Usually it is extreme stress, such as a death in the family or a traumatic event, but you could be more sensitive to just the daily stresses of life. I think the first thing you should do to consult a knowledgeable doctor who frequently deals with women's hair loss to determine if your hair follicles are miniaturizing. Miniaturizing follicles point to androgenetic alopeca, aka female pattern baldness. Doctors can usually tell if there is miniaturization by using a densitometer, a hand held device that magnifies a small area of the scalp. Some doctors do scalp biopsies to determine the type of hair loss. I don't know much about scalp biopsies because I've never had one, but several women on this blog have done them and found answers to their hair loss questions.
If I were you that is where I would start. First determine if it is just telogen effluvium or female pattern hair loss. From there you can begin to make educated decisions about how you will want to treat your hair loss. As far as working on the stress, I would highly recommend having body work (massage) done, acupuncture and perhaps try to fit in yoga a few times a week. Those things will definitely help you manage the stress you have and they help to put your body in a more healing environment which can only be positive. Don't give up, it seems your journey to find the cause and treatment for you hair loss has only just begun and that you possibly have a lot of options. I understand the devastation hair loss causes, and my heart cries every time I read the stories of other women who are suffering from hair loss. You definitely are not alone, I'm always here to help answer any questions you have to the best of my ability and there are a lot of really knowledgeable, kind, supportive women on this blog that are always willing to help as well.
~Y