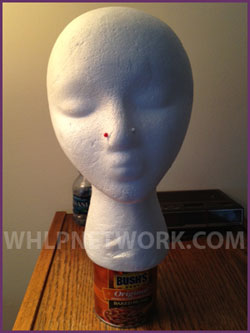 Lina has sent me this post to share with all of you about her first time washing her wig. If you don't remember, Lina is the lovely gal who posted the story "After All Life Sentence in Canada Is Only 25 Years." 
——–
Hello ladies, I recently transitioned into wearing a wig. I should of worn my topper a lot earlier so I could of got some real use out of it but fear kept me from it and alas the hair loss sped up and I am now 12 days into wearing a wig. Besides the fear of wearing a wig, I really thought I couldn't possibly wash it on my own – that would of meant driving 2hrs there and 2hrs back every 2-3 weeks, cost of gas, time and $50-$100 for the wash and set – how could I do that?
Well, last night I decided to wash my wig myself. I used Admin's videos as a guide – I bought the pins she suggested (way better than the t-pins) and even the shampoo and conditioner, I even shook the hair and hung it upside down. After the conditioner application, I combed it through and left it for 15 minutes before I rinsed it.
My wig heads are short (I am going to invest in the longer ones) so I had to prop them up with black bean cans (that's all I had). I had the wig mostly hanging over the bathroom vanity and didn't realize that my bangs were touching the vanity until this morning – they dried like the episode in "Something Like Mary" (no joke). I panicked and was getting my call in sick excuse ready when I said, "calm down Lina, wet the bangs an comb them down" – duh. Well, not really my fault, I haven't done my hair in ages – letting it air dry and hang in crispy wisps doesn't take much styling!
Ok, bangs wet, shook the hair, combed her and voila! My wig is a human hair wig but it is processed, when I got it it was not custom made and the salon added highlights to get the hair closer to my color – I put it on without ever washing it and to be honest it irritated the back of my neck but I thought oh well at least I have hair touching the back of my neck. They also flat ironed it – they seem to do that alot at the salon, I don't know if it's because everyone likes that but for me I always had some wave to my hair and never dared flat iron it – no way was I going to tug on my strands. Let me say, she air dried with wave, much closer to my own hair and she smells wonderful and is so soft and sits lovely on the back of my neck – this is the first time I have felt she isnt' a wig!!!
At the salon, the girls never washed the wigs on a head and they were pretty rough with the pieces, they are super busy. I remember seeing them tug on them and trying to get the knots out and thinking: "shit my wig will only last a year" how can I afford this? Guess what, I used the heads, had zero problems combing her and the entire process: start to finish – 3 hairs lost! My wig is going to last much longer than a year.
So all this rambling was meant to take the fear out of washing your own wig and I can say I got the courage from our Admin – thank you, thank you. Take your $50-$100 salon visits and buy yourself something pretty or put it in a wig fund – these suckers can be addictive!
Have a happy day all (I wish you could touch and smell my wig)
Hugs XXOO