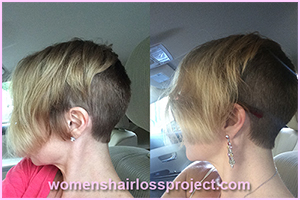 **This post is from a fellow WHLP Member, "BW." **
As many of you may know from the last blog I posted, I had been experiencing a Hell Shed. This was far beyond my usual seasonal nerve-wracking and it sucks but it's manageable thing. This was my body went through a major physiological change (quitting smoking was my trigger this time) and here comes the Hair Dump. I went from having my pretty awesomely normal (short) hair in early June to quitting smoking on June 16 to start a crazy messed up put me back in my little black hidey hole ka-boom see ya hair thing by about a week later and I just couldn't get it to stop. Like holy cow. Hair explosion for months and no end in sight. Sigh….. And yeah, I wear a wig most of the time anyway, but I don't go to the gym in my wig. I really wasn't planning on wearing a wig for my half marathon in November and honestly, it had gotten so bad that not only was I getting seriously depressed about it. I was also using Toppik at my front hairline just to be able to blend with my wig AND I had lost enough hair that my wigs weren't even fitting well anymore. Oh my.
Yes, ladies, I had the Ultimate What You Don't Want to Happen When You Are Wearing a Wig Experience. My wigs had gotten loose since I had lost SO much hair and I guess I hadn't thought too much about it because once you get used to wearing hair, you just are way more relaxed about (maybe too relaxed in my case) and when I was shaking my thang all over the dance floor on a beautiful Saturday night in August, my hair fell off. Like on the dance floor. Like under someone's feet. Yeah. WAKE UP CALL! I had lost so much hair that my wigs weren't even fitting anymore. Remember that hidey hole I was talking about? Step right in.
I really started feeling stuck. I had begin hitting the Toppik bottle again (hard) while wearing my wigs and also while just going to the gym and stuff, and man, that stuff is truly amazing but I even needed it in the front for blending in my now strapped as tight as possible wigs. That just seems no bueno – now I need Toppik to even wear my wigs? Big sigh….. And as all hair wearers know, you gotta always have a back up plan. Or a forward thought. And I couldn't find one. Where am I gonna go from here? What if I couldn't make my current situation work anymore? [click to continue…]
{ 70 comments }