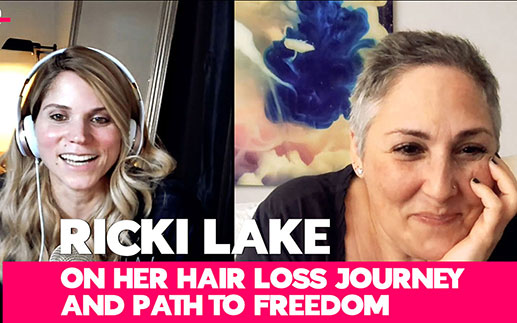 Jan 1st of this year Ricki Lake came out to the world revealing her secret battle and struggle with hair loss that she had been dealing with for nearly 30 years. I met Ricki in 2012, she had joined my site, The Women's Hair Loss Project, in search for help, support and understanding. We connected through hair loss.
I am so honored to be able to be joined by Ricki from her home in Marina De Rey, for this episode of my podcast. It was an unbelievable privilege to sit down with her and listen to her tell her story as she shares how her hair loss started and takes us along for an inside and intimate look at what it was like dealing with hair loss while being in the public eye. 
She also shares some never before seen personal footage from from the day she shaved her head, and also snippets of documented clips from when she revealed to her boyfriend for the first time (after dating for 20 months) about her hair loss struggle. Spoiler alert, he embraced her with loving and open arms, as any good man would… for those women who are concerned about dating and hair loss.
Ricki is truly a beacon of strength, and hope for others, and I am inspired by her courage to be able to step forward, and put a face (a very public face ) to this debilitating and devastating disorder that so many women like myself have had to deal with and often having to have done so suffering in silence. Much love to Ricki ! And Much Love to All !
XOXO ~Y