Guest Blog By: Amy Medling


When I was seventeen, I started noticing lots of hair on my pillow, in my brush and on my school desk.  I was a senior in high school and my hair was falling out. I know so many of you can relate to the stress this causes a young woman.  My mother took me to several doctors and they all chalked it up to stress of senior year and college entry.
What I wish the doctors had looked at was not just this one symptom of hair loss  but rather what was going on with my body as a whole.  I also had some unwanted facial and body hair, fatigue, hypoglycemia and irregular periods.  All of these combined symptoms would eventually point to Polycystic Ovarian Syndrome (PCOS). I was finally diagnosed at age 31.
If you are experiencing hair loss, especially androgenic alopecia, you may also have PCOS.  It is one of the most common female endocrine (hormone) disorders and is a leading cause of female infertility. The condition is caused by an imbalance of a woman's female sex hormones. PCOS affects as many as 10-15% of all women, and half of women with PCOS actually are undiagnosed.  If left undiagnosed, PCOS can lead to type 2 diabetes, cardiovascular disease and certain cancers.
PCOS can cause irregular periods, weight gain, depression, mood swings, acne, excess facial and body hair growth, and ironically, hair loss. It can also cause the absence of ovulation, which can prevent a woman from conceiving.
I have often heard PCOS referred to as the "Thief of Womanhood." If left unmanaged, it can rob you of your fertility, femininity, health and happiness. I understand this label and have struggled with many of the PCOS symptoms. It wasn't until I realized that a PCOS diagnosis isn't the end of the world – it is a chance for a new beginning – that my real healing journey began. When I started taking care of myself, loving myself and making me a priority (in spite of my PCOS) I became a new woman. My husband started calling me a diva. What a compliment!
PCOS is most often managed with prescription drugs like birth control and the diabetic drug Metformin, but there is another way. My mission is to help women take control of their own health and life and overall happiness. By altering your lifestyle and following my 5 Fundamentals of a PCOS Diva, you can reduce your PCOS symptoms naturally. After I started living the PCOS Diva lifestyle, I became pregnant naturally at the age of 37 and have a healthy little girl after having 2 boys, both conceived through fertility treatments.
My 5 PCOS Diva Fundamentals are:
Sizzle in the kitchen: Cook your own food. No crazy diets, just get in the kitchen and start cookin.'
 Have discriminating tastes: Only clean whole foods allowed in your temple.

Move it:

Exercise. The more you move, the better you'll feel.
Practice extreme self-care: Love yourself and know you're worth it.
Be powerfully positive: Steer clear of perfectionism, self-sabotage and negative self-talk.
The experience of healing myself and regaining my fertility, femininity, health and happiness – and having a healthy little girl – truly launched PCOS Diva. My daughter may inherit my PCOS genes and if she does, I want her to know that having PCOS is not the negative thing I once thought it was. It is an opportunity to live life as a diva!
I do still struggle with hair loss and have shared about it on my site.  In fact, Y has inspired me to start wearing hair.  If you want to meet "Aimee" my new FOLLEA girl, take a peek here.  If you think you have PCOS or someone you love has PCOS, let them know they don't have to struggle alone. Please visit PCOS Diva for lots of info on how to manage your PCOS symptoms naturally and get involved in the PCOS Diva community on Facebook for positive support.
——————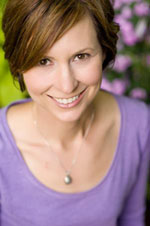 Amy Medling, CHC, is the founder of PCOS Diva.com, an online resource dedicated to helping women understand and manage the symptoms associated with Polycystic Ovarian Syndrome (PCOS). She studied holistic nutrition at the Institute of Integrative Nutrition and is a Certified Health Coach. Diagnosed with PCOS 12 years ago, Amy thought she found relief when her doctor prescribed Metformin and the birth control pill. Instead of relief, she felt trapped inside a body that rejected these artificial treatments. This is when her Diva journey began. She moved from a "why me?" self-pity state to a place of empowerment that ultimately led her to becoming a "PCOS Diva". Her dedication and research produced a proven treatment plan that uses whole food, natural remedies, supplements, exercise, self-care, positive thinking and stress reduction to relieve and control PCOS symptoms.