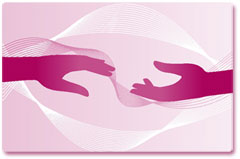 Hi everyone I've finally gotten over my sickness, and I want to thank you guys for your well wishings, I really do appreciate it. Being sick stinks, and I think I have a lower immune system than most so I'm more susceptible to all the germs floating amidst us out in the world. But on with my post…
I received an email a little while back from a woman named Lisa who was interested in starting a support group for women with female pattern hair loss. Here is her story:
I'm 29 years old and have dealth with hairloss since around twenty years old. I have AGA and am going through Tefflogen Effluvium for the 2nd time due to a miscarriage. I have gone through all the motions and emotions that women deal with hairloss. I have tried numerous types of treatments and am currently just using the hair laser treatment, AGAIN, at the suggestion of my husband. I said I would try one more time and if it didn't work I will start looking for hair replacements, he is hesitant for that to happen. My hair loss is diffuse and I just don't think its going to return to the thickness I once had.

Now, I want to try to help women, as you do, with your website. I am interested in starting a local support group for women with hair loss, specifically , with FPHL, AGA. Do you have any suggestions or someone I could contact to help jump start this project. I just don't think there's enough support for women like us and its time we we act locally. Thanks so much for your efforts, its help me greatly in dealing with the ups and downs of our affliction. -Lisa
I don't have much experience with how to start live support groups since I've never been to one or started one either. I think a good place to start is to sort of get a feel for whether or not women with female pattern hair loss would attend. So the question is, if there was a local support group in your area where you could meet with other women with female pattern hair loss would you want to attend? Next would be finding people in different locations that would be willing to be the "host" or, really the go to contact person for that area. Then all that would be left is putting the word out, which I would be more than happy to use the Women's Hair Loss Project for posting a bulletin of different locations that are offering support groups. Also Craig's list would be another great place to post the support group listing. Lisa, where do you live? Why don't we work on your first support group in your area. If anyone else has any ideas or suggestions on how to get this going please leave your comments and suggestions. I think it is a great idea that you are trying to launch this project, you are right, there really isn't enough support out there for women suffering with female pattern hair loss, so I'll help anyway I can. You are the same age as me, and have been we've have probably been losing our hair for about the same length of time since you indicated you began losing your hair around the age of 20. Is your husband supportive of what you are going through? Would he support you if you decided to wear hair? It is just awful to have to deal with this… 29 isn't when we should lose our hair, and certainly not at 20, but I try and always look toward the positive and all that I am fortunate to have. I repeat to myself that "I am not my hair" and I need to live for today because tomorrow isn't promised to any of us. Obviously easier said than done, but I still try. The worst was feeling alone, but we aren't, there are so many women out there like you and me. I have received countless emails from women, more than I ever imagined I would. I promise to post every story that has been sent, it just takes time to get to them all. Each one is unique and yet so alike. I hope that you will be able to organize this support group in your area and I'll help in anyway I can.
~Y