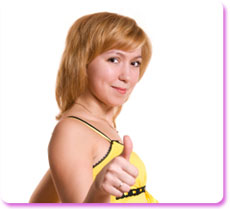 This Story was sent in by Angel, you can visit her profile page on the network here.
Hi. I wanted to share my story. It may help someone else. I had my fourth child in April 2007. I had a major hair fall after stopping breastfeeding. At some point after that it really started thinning, but I guess I really didn't notice until my mother made mention of it. I started back on Desogen (low androgenic) pill for about 3 months and my hair fall was normal. I then had decided I no longer wanted to use synthetic hormones and stopped. After that, my hair starting falling out in droves. I went to an internist to have my thyroid checked. I was told that all my labwork was normal. I would just find myself in tears some days b/c it just wouldn't stop. One day, I was speaking with a friend of mine who has been a raw food dieter for about 10 years. She had been having some problems with her skin and told me that she had been seeing a natural pharmacist. I made an appointment to see him one day (I also am a pharmacist). I went with my labwork and about 5 days worth of taking my oral temperature (regular thermometer) which averaged 97.4 degrees—optimal 98.8-99.2. My thyroid panel that my internist ran was only a TSH level and a total T4. He gave me a list of labs to have done at my second doctor's office (my ob/gyn), which included Vitamin D, B12, DHEA-S, Free T3 and Free T4. The pharmacist that day muscle tested me (sounds crazy, but it works!) and put me on a couple of supplements like Vit D, Iodine/Iodide and a couple of things for adrenals. His gut feeling was, even though my TSH was normal, my temperature was too low and for some reason my thyroid was not being utilized appropriately. (I also complained of fatigue and low libido).
I was told by both doctors they had no idea why my hair was falling out and to use Rogaine. They didn't know what exactly I thought I would find in the labwork. To make a long story short, I went back to the natural pharmacist with all of my labs. He determine that I was not converting T4 to T3 (active form) as well as I should be (although both were in "normal" range to lab and doctor). I should say that after about 4 weeks of Iodine/iodide and Vitamin D my hair fall was better and my temp went up to an average of 97.8. After my second visit, he put me on selenium and zinc supplement (necessary to convert T4 to T3)—I have now been on that for about 2 weeks. I am back to normal hair loss!!! My temp is back up to averaging 98.6 and I no longer feel like a need a nap every afternoon. My libido is also returning to normal. I am so excited and thankful for finding my answer!
The pharmacist had told my friend that about 90% of hair loss in women had to do with their thyroid. My thyroid functioned fine, but I was just a "poor converter"—amazing that even the medical doctors don't even totally understand. After all of my 6 years of pharmacy school and my years of practice, I am a believer in holistic medicine—the idea of treating the whole person and not just labs and symptoms. Hair loss is not normal and should not be accepted as normal—it is a symptom of something going wrong in your body. Different people have it come out in different ways. For me, a little change in diet, exercise, and nutrional supplements made the difference for me–my body could not function optimally without proper
nutrition. It chose to shut down my hair follicles and energy levels, etc.
I hope that every woman out there struggling with hair loss hears my story. Determining if thyroid is your problem may go beyond a medical doctor. A good first place to start is taking your temperature!
************************************
Dear Angel,
Thank you so much for sending in this hair loss success story for our readers. I got your email and totally agree that your story can and will most definitely help other women going through a similar situation as yours. I consider myself in that group of women of which I refer to. I have been diagnosed with hypothyroid myself for many years. I've frequently written how I felt that the dosage of the medication was actually CONTRIBUTING to my hair loss. A couple of the posts are here: https://www.womenshairlossproject.com/hair-loss/synthroid-hair-loss-low-thyroid/
and here https://www.womenshairlossproject.com/hair-loss/hair-loss-shedding-slowed-down/
Your holistic doctor sounds pretty awesome so feel free to give his name and website (if he has one) so that women who live close by can perhaps visit him as well. Interesting that you wrote that it was a "raw food dieter" friend that pointed you in the direction of this holistic doctor. As of the Thursday before last I have been diving into the raw food diet in an attempt to better my own health and hopefully as a pleasant side effect, help my hair loss 🙂 More about that later…I think your story is going to be very empowering for other women to read.
Thanks so again for taking the time to share your hair loss success story!
All The Best,
~Y