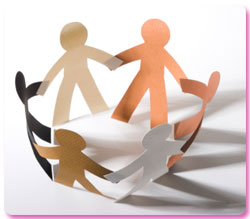 Question:
I am 40 years old and I am bald. I began losing my hair in March of 2007. It has grown a little then falls out, it falls out all over. Starts out in patches then completely goes bald (which is where I am now). I just would like to know I'm not alone. I am looking for a support group in my area.
Thanks,
Gina
Answer:
Dear Gina,
You are definitely not alone. There are unfortunately an extremely high number of women who suffer with hair loss. According to The American Hair Loss Association that number is around 40 million. That makes you very much NOT alone.
As far as support groups, currently the only ones I am aware of are being done by a non profit organization called "Bald Girls Do Lunch."
Their next event is being held in New York City on October 7th and is called "Alopecia Areata Day of Beauty." The fundraiser is being held to raise funds to support their lunch meetings across the country.
After that the next meetings will be held in Scottsdale, AZ on October 13 and then Philadelphia, PA on November 3rd.
More About Bald Girls Do Lunch:
Bald Girls Do Lunch, is the only non-profit dedicated specifically to helping women with the auto-immune hair loss condition Alopecia Areata. Visit the website for more information about the lunches and to read testimonials.
The founder, Thea Chassin from New York, brings Bald Girls Do Lunch meetings to cities around the country. Chassin, who has been bald for 10 years has no body hair and eyebrows and lashes that come and go.
Millions of women have her condition. Too many are feeling alone and isolated with it. Chassin decided to do something about it by bringing women together in a positive way, life changing way. Most women have never met another with their condition, but when they do, their lives take a dramatic upturn.
Chassin is traveling the country
to mainstream public acceptance of the healthy bald woman
to inspire women who want to go bald in public how to adjust to doing this
to help these women feel great about themselves whether wearing wigs or not
to give women practical advice for maintaining normal, active lives despite their hair loss struggles
More information can be found on their website: www.baldgirlsdolunch.org