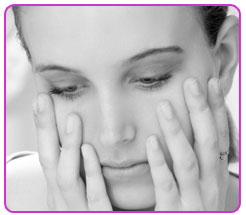 I am 24 and of fairly good health. Then on Febuary 14th 2007 I noticed a small bald spot on the top of my head about the size of a dime. I freaked out. I was in a new relationship and thought who could love me if I go bald? I spent months trying to figure out what was wrong with me….my spot growing every day. Within a few months the spot had grown to 2 inches across and was very noticible. I began using a topical steroid cream that caused my scalp to itch and burn but I still hoped it would work. After 6 weeks or so I stopped using it because i was seeing no results. Today is October 31st 2007 and my hair is growing back great on its own terms. It is nearly an inch long and covers the whole spot. I thought it was over. I have been so relieved about my hair growth. My doctor told me it probably wouldn't happen again. Then I went to my mom's shop to get a hair cut. She found another spot…. on the back of my head now. I have been tested for everything under the sun. I am at the end of my rope. Why can't they find whats wrong with me? I got my final test results also today. I can't believe I was actually hoping it was Lupus so I had an answer. My tests are normal. So here I sit a young woman 24, with yet another bald spot, no answers, no health insurance to get more tests, sick all the time and trying to cope with the everyday struggles of being a single mom. I just wish someone could tell me what is wrong with my body and treat the source instead of the symtoms. At least I have my son and my boyfriend who loves me even if I go totaly bald!
*******************************
Dear Jessica,
I am not a doctor, but it definitely sounds like alopecia areata. Did they diagnose you with that? You didn't mention it in your email, and I'm really surprised that your doctor would be unfamiliar with that disorder. You did mention that you used a steriod cream and that is a pretty common treatment prescribed for this type of hair loss. Alopecia areata is an autoimmune disease in which the body mistakenly treats its hair follicles as foreign tissue and suppresses or stops hair growth. No one really knows how or why this develops. For some reason the immune system is inappropriately activated and attacks hair follicles. Alopecia areata often appears as well defined circular bald patches on the scalp. Many people will get just one or two patches, but for some the hair loss can be extensive. If only one spot appears on the scalp it is called alopecia areata monolocularis. If more than one area if affected it is called alopecia areata multilocularis. People that develop these patches often experiences spontaneous recovery within two years even without treatment. For some the condition is more persistent and they can have repeated cycles of hair loss regrowth. I don't know if you read Elle's hair loss story, she has alopecia areata, and in the last correspondence I had with her in October she wrote that her hair was starting to grow in again, which is great news and the thing I do find encouraging about that type of hair loss. Androgenetic alopecia (female pattern hair loss) can be treated, regrowth can occur and the progression can be dramatically slowed, however, it is unlikely that all the hair will return to it's former state.
The reality is any type of hair loss is devastating. I really sympathized with when you wrote that you had actually hoped it was Lupus so that you would at least have an answer. I have felt that way many a time over the years, hoping that the doctor would find some disease that would pinpoint the cause of my hair loss. The disease could be treated and all my hair would return. Case closed. But I'm lucky I don't have that "disease" I was looking for to solve my problems, in reality it would just create a whole set of new ones.
It is possible that after this new spot grows back in you may never experience this again. I can imagine how difficult it is to be a single mother and then to have this thrown on top is just so much to deal with. Some doctors believe that extreme stress can contribute to alopecia areata, but there is more to it than that alone. Research has shown that genes can also be involved. Ultimately I don't think anyone knows exactly what causes it, I think there are just guesses. You mentioned you are sick all the time, I wasn't sure if you meant that as in sick of what is happening, or that you are actually sick. If you are sick, what do the doctors tell you regarding that alone aside from the hair loss?
Often when I write responses to the emails I receive I feel helpless. At the end of the reply I feel saddened that I cannot provide any definite solutions for the hair loss problems, and for that I'm sorry. I'm baffled how after all this time no one has found a cure for hair loss. My cynical side believes it is because there is no money in a cure only in the treatments. I know what hair loss does to women, how it changes us and makes us self conscious. But, I think it is so important to try and remain as positive as possible, to not let it take over and rule our lives. I know it sounds like an impossible task, but it can be done. My reality is that my hair is so very thin right now, if I focused on it, and all the hair I've lost over the years coupled with the uncertainty of the future, I would crawl into a ball and start crying uncontrollably. Nowadays I try very hard to not let myself get to that place, I try and not focus on my hair, and not focus on what I had that now is gone. It isn't easy, but the more we accept ourselves the easier it becomes to deal with our hair loss and anything else that life may throw at us.
~Y