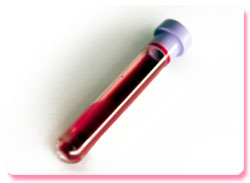 I found this study really interesting as it cites low iron stores as a possible contributing cause of women's hair loss. I know one of the first things that usually gets tested when a woman complains of hair loss is the iron levels. Of course there is such a huge range of what is considered normal its hard to tell the optimal level for our body.
Here it is:
European Journal of Dermatology. Volume 17, Number 6, 507-12, November-December 2007, Investigative report
*Abstract
Author(s) : Claire Deloche, Philippe Bastien, Stéphanie Chadoutaud, Pilar Galan, Sandrine Bertrais, Serge Hercberg, Olivier de Lacharrière
Summary : Iron deficiency has been suspected to represent one of the possible causes of excessive hair loss in women. The aim of our study was to assess this relationship in a very large population of 5110 women aged between 35 and 60 years. Hair loss was evaluated using a standardized questionnaire sent to all volunteers. The iron status was assessed by a serum ferritin assay carried out in each volunteer. Multivariate analysis allowed us to identify three categories: "absence of hair loss" (43%), "moderate hair loss" (48%) and "excessive hair loss" (9%). Among the women affected by excessive hair loss, a larger proportion of women (59%) had low iron stores (<\; 40 µg/L) compared to the remainder of the population (48%). Analysis of variance and logistic regression show that a low iron store represents a risk factor for hair loss in non-menopausal women.
The article is broken down into the following areas
Introduction

Materials and Methods
Volunteers
Hair Loss Assessment
Biochemical Measurements
Statistical Analysis
Results

Hair Loss Quantification
Link Between Hair Loss And Serum Ferritin Levels
Discussion
This study, carried out for the first time on a very large cohort of women, provides strong arguments in favor of an association between depleted iron stores and hair loss, particularly excessive hair loss in women before menopause. It is likely that women classified in the present study under "excessive hair loss" were mainly women with androgenetic alopecia [17], however considering their large number, women with CTE [3] might also be included. Since serum ferritin measurement has been reported to be the most sensitive assay for estimating the iron status in an adult population [24], we used this assay to verify a possible link between iron status and hair loss. […]


Download PDF