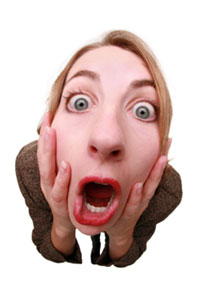 I don't even know where to begin. I am speechless and have not yet managed to pick my jaw up off of the floor. I sit her blankly staring at the computer screen, thinking that world has gone to hell in a handbasket.  I  was sent a link to a page that contained an iPhone application called "Hair Clinic." The site claims it to be "The World First Mobile Hair Clinic System" Is it just me, or should there be an apostrophe "s" after the "d" in "world?" I'm no grammar diva, but that looked a little off.
But I digress.
Word for word, their website states:
"HAIR CLINIC, the iphone application helps you to protect it easily Various types of Inaudible wave frequencies from iPhone speaker protect your hair and hair roots with following 3 steps."
By the way, that is exactly how it is actually written on the website. Was that English?
You simply must be busting at the seams to find out how this innovative product works. Well slide to the edge of your seat ladies, sit up straight and listen: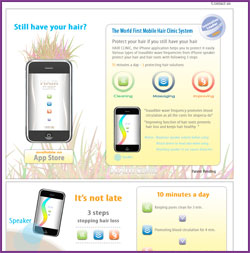 10 minutes a day – 3 protecting hair solutions 🙂
1. Cleaning – Keeping pores clean for 3 min.
2. Massaging – Promoting blood circulation for 4 min.
3  Improving – Improving function of hair roots for 3 min.
How does an iPhone application do that? I'm particularly interested in # 3. (??)  Just picture it now, you could be at lunch with the girls, whip out your iPhone and start "improving" your hair loss. Do you rub the phone on your head for the massage? Do you need to turn your phone on vibrate first? The whole thing in incredibly funny, from the words and sentence structure on their website, to the whole concept of an iPhone application for hair loss.
The application was just released on April 20, 2009 – I guess they missed the date they should have released the product, April 1st!  So for only $3.99 you can be the envy of all your friends.