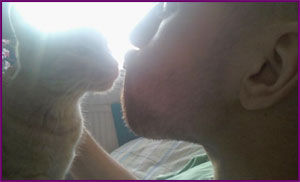 I was sent an email today by my friend Lisa, she asked for my help in spreading the word  about raising money for her next door neighbors son, Jaime, who is dying of cancer. The doctors in the UK have determined the type of cancer Jamie has, Hodgkin's Lymphoma, to be terminal with the treatment that is available tin the UK. Jamie's cancer has become resistant to chemotherapy and he cannot safely endure any further radiotherapy. Jaime's family is diligently working to raise awareness and enough money to bring Jaime to the United States so that he can undergo the new and more effective treatments available for his condition.
This is what Lisa has written:
Hello all my fellow hair loss sista's,

This is a very difficult blog for me to write. My neighbors are trying to raise money for their son, he urgently needs medical treatment in the USA. Here is the site i would like you to take a look at – http://www.helpjamie.com

These people are the nicest people you could ever wish to meet. When I moved into this house 6 years ago they were the first people I spoke to, they have been there for me in times of need and hardship, all I am trying to do for them is raise as much awareness for them to get their son back to the USA for the best possible treatment they can get. The hospital here doesnt have the technology to treat him, he has now lost the use of one arm and his legs are getting worse by the day. If you read their site it gives you full details of him and their plea.

I have been sat here all day thinking of ways I could raise awareness for them and the first place I thought of was here, I have asked "Y" for her permission to do this and she has said she will do anything possible to help. I hope you can find it in your hearts to help a family who is absolutely desperate to save their son's life, even if you donate $1. It is a step in the right direction. My husband, Rory, is doing a 100k mountain bike ride in August to raise money also. We are getting posters drawn up to put in local shops etc to raise more money.

As it is Mothers day, please take time to help this mother save her son.

Yours, eternally grateful
Lisa xxxxxxxxxxxxx
———————-
This is your chance to make a difference, help change the life of another. The smallest donation can help so please take the time to visit Jamie's site to learn more about him and how to donate.