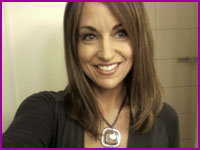 Many of you have expressed interest in hairpiece options and many have posed the same questions so bear with me as I attempt to provide some answers.
How Do I Know If a Topper or Full Wig Is Right For Me? What Are The Estimated Costs For Hair Replacement?
A topper will work if your remaining hair is in good condition on the sides and in the back. If you have diffuse thinning you should consider a full piece.  The costs of toppers will range anywhere from $450 to $1,500 and a full piece can fit into that range as well. The average cost of tapes or glue will be about fifteen dollars a month . There are so many materials these pieces can be made of. The advantage of a lace piece is that once it is pressed into tape or glue it will disappear into the skin providing a natural look that is ideal for those who do not want to wear bangs at all.
Can I Shower or Swim In a Bonded Hair Piece?
Yes, you can shower and swim in a bonded hairpiece. Most medical grade tapes and glues hold up just fine. If you know you will be swimming certain adhesives will hold up better than others and I'm happy to fill you in on all that if you are planning on doing so. As for showering…not a problem. It is a different feeling/experience when you first start showering in a hairpiece but you get used to it. Once you are out of the shower, it is very difficult to tell your hair isn't real.  You style it just as you would your own. If you have hair underneath it may take a little extra time to dry it but that's really as complicated as it gets.
Daily bonding with tape should take very little time  (5 minutes). For longer periods of bonding you will take more time of course, but the longest it should take is 45 minutes. It does take practice though.
What About The Bedroom?
As for the "mattress mambo" (sorry, but many of you asked)…yes it's all good. Even on the wildest nights you should be fine:) if your hair is bonded. Again, it may take a bit to adjust to the feel of the hair, but trust me, you will feel one thousand times sexier with hair than how you do with thinning hair in my opinion. For those of you who rock the bald look, now that can be just as sexy though! Okay…enough of this subject, hope I didn't offend anyone:)
Wearing a bonded piece to bed is a small adjustment as well, you will be aware that it's there but you'll get used to it quickly.
Waking up in the morning to a full head of hair is a great way to start your day!
Sleeping with it in a low ponytail is sometimes preferred. Sleeping on a satin or silk pillowcase will help reduce damage while sleeping also.
How Do I Bond My Hairpiece? How Do I Know If I Should Use Glue, Tape or Clips?
I prefer tape myself over glue because it is easier to clean up and apply. There are so many options out there that it's best to consider your skin type and how often you plan on applying and wearing your hairpiece. If you choose a top piece then you will have to put bond or tape onto your own hair. The tape or glue will go around the perimeter of your piece and then lay down and integrate into your own hair. Believe it or not as long as you are gentle, it will not harm your hair much to apply and remove. For me, the clips did damage to my weak hair, but that's just my own personal experience.
If you choose a full unit then you will not have to place tape or glue into your hair since as you can just outline the front of your hairline and the perimeter of the rest of your hair with tape.  You are still able to wear your hair up in a ponytail or updo in a topper or full wig.
Do I have to Shave My Head?
You do not have to shave if you choose not to, but you will most likely have to learn to do your own bonding as most places will have you shave a bit to bond. IT IS  POSSIBLE TO LEARN TO BOND YOUR OWN HAIRPIECE, especially if you are okay with reapplying once a week or every two weeks! If you are at all a perfectionist like me then I strongly encourage you to figure out how to do it yourself! Most likely, no one knows your preferences for your hair than you. It will take dedication, patience and time but it can be done! Reprieve hair systems on the other hand would be nearly impossible to do yourself.
Will People Know I'm Wearing Hair?
Likely not. Done properly, you should not be able to tell. Most people will assume you got hair extensions or a new stylist if you choose a style close to your own.
What Other Advice Do You Have?
Wearing hair can be so liberating, you just have to do your homework and accept that you will have to work through some adjustments! There are so many choices so it's best to seek out the help of a professional. Many women make the mistake thinking they will just order something from overseas or even in the US and they wind up with a hairpiece that is useless.  There are SO many variables in ordering custom hair, from density, to silk top placement, to color variations, all based on the vendor…it really is an art.
The most important part of finding the hair that is right for you is finding a specialist you can really communicate with. My first hairpiece experience was with a local woman whose English was so poor I nearly gave up altogether. She was nice, but I never felt confident that she TRULY heard or understood what I was asking for. She made me feel as if I should just be thankful to be paying her $800+ dollars for her standard hairpiece and leave her store overjoyed. It was frustrating and expensive. I knew there has to be a better, customized way, and now I know there certainly is. No two heads are alike and no two women are for that matter either
I hope this has answered a few questions, and kudos to all of you who are bravely venturing into the world of supplemental hair. It's totally worth it!
~KatKat

Visit Cara (aka KatKat) on The Network: http://community.womenshairlossproject.com/katkat/
Cara's Website: http://www.pieceofmindhairdesign.com/