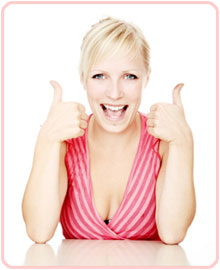 I have received numerous emails from women who want to know if I know of any good hair loss doctors in their area. Unfortunately I don't, but I think there are probably plenty of women who have found doctors they trust and believe are truly helping and listening to them. So I've decided to give women the opportunity to recommend their doctor should they wish to do so. I'm calling it "Fave Your Doctor" and you'll notice I added a little button in the side bar.
What makes a good hair loss doctor? In my opinion I'd start with a doctor that doesn't dismiss your complaints of hair loss and doesn't demean the emotional implications it is having on your life. What else? Let's see, a doctor that routinely treats women's hair loss and has a lot of experience with the causes and appropriate treatments. A doctor that listens to your concerns about the recommended treatments and answers all your questions, providing you all your feasible options as well as explaining any possible side effect of those options. In my opinion the doctor should definitely order the necessary bloodwork to help diagnosis the cause of your hair loss.
You know when you see a doctor whether or not they are good, and you know when you have the itching urge to run out of the office screaming your head off because you simply can't be heard. There are a bunch or qualities that make up a good doctor. I place a high importance on a good bedside manner because when you suffer with hair loss you feel so vulnerable and are reaching out for help, I want that vulnerability to be received with care and not with a stern "well it's just hair loss, it's not going to kill you."
How does fave your doctor work?
It's pretty simple. If you've had a good experience with a particular physician and think that he/she would be a great resource to recommend to another woman, please fill out the form here. Or click on this button from the sidebar

Hopefully I'll be able to compile a good size list of different doctors who treat women's hair loss located throughout the county and in other countries as well.
I'd like to take it one step further, so in the form I'm asking if you would allow for another woman from our site to contact you via email to learn more about your experience. Either way, your email will not be published, and I completely respect your privacy should you not wish to be contacted. [click to continue…]
{ 1 comment }