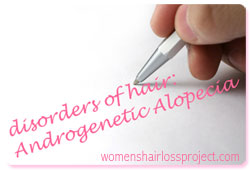 I came across this article today while doing some hair loss research on the internet, and I thought it covered a lot of questions that women have about hair loss. The article is about both male and female pattern hair loss and provides a good overview. It was published on medscape from ACP Medicine Online. Here it is:
David A. Whiting, M.D.
Androgenetic alopecia is the common type of nonscarring hair loss affecting the crown. It results from a genetically determined end-organ sensitivity to androgens. It is often referred to as common baldness, male-pattern alopecia, and female-pattern alopecia.
Epidemiology and Pathogenesis
Androgenetic alopecia affects at least 50% of men by 50 years of age and 50% of women by 60 years of age.6,7 Males have more androgen than females and therefore are usually affected earlier and more severely. Male-pattern alopecia often starts between 15 and 25 years of age. Male-pattern alopecia has two characteristic components, bitemporal recession and vertex balding [see Figure 1 — omitted], which in pronounced cases can progress to complete balding of the crown.6,7 Female-pattern alopecia is more likely to start between 25 and 30 years of age (or sometimes later, after menopause). It is characterized by an intact frontal hairline and an oval area of diffuse thinning over the crown [see Figure 2 — omitted]. Bitemporal recession in women is much less obvious than it typically is in men, or it can be nonexistent. In general, androgenetic alopecia in women progresses to mild, moderate, or severe thinning but not to complete baldness. The best predictor of outcome is the degree of progression in affected relatives.
Androgenetic alopecia is an autosomal dominant disorder with variable penetrance. Susceptible hairs on the crown are predisposed to miniaturize under the influence of androgens, notably dihydrotestosterone. In both sexes, miniaturization results from a shortening of the anagen cycle, from years to months or weeks. Miniaturized hairs are characterized by reduced length and diameter; this accounts for the appearance of hair loss.8 Androgenetic alopecia largely spares the back and sides of the scalp.
Diagnosis
The diagnosis of androgenetic alopecia is usually obvious from the clinical pattern of hair loss from the top of the head.9 In some men, a female pattern of alopecia (see above) causes diagnostic confusion but has no other significance. In women, a male pattern of alopecia (i.e., bitemporal recession and vertex balding) occurring with menstrual irregularities, acne, hirsutism, and a deep voice is significant. The virilism indicates significant hyperandrogenism, the cause of which must be identified and treated [see 3:IV The Adrenal — omitted].
Scalp biopsies are rarely necessary to diagnose androgenetic alopecia. Biopsies cut horizontally are sometimes useful, however, in differentiating female-pattern alopecia from chronic telogen effluvium (see below). [click to continue…]
{ 5 comments }