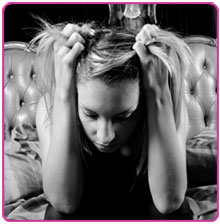 Wow, I'm so happy I just found this site…I'm 20 years old, have had been genetic hair loss for four years now. About 2 years ago I had a biopsy done and my derm told me it was probably genetic, he put me on Rogaine, Spiro and Yasmin. I was on those meds for about a year… and they did absolutely nothing. Last year in the fall my hair loss was getting really bad and I was getting so desperate for something, so I spent over $1000 on getting Invisible Hair extensions. I was assured by so many people that they would be safe, and definitely the perfect solution. The extensions were great! I loved having so much hair and planned on having the extensions put back in. Well when I got them removed for the first time I was SO devastated, more than half of my already thin hair was gone.
Its been since January now since I've had them out and I feel like I've hit the bottom. I'm in college and can't concentrate on anything. I'm always way too focused on everyone else's hair and I feel like I'll never feel normal again…I haven't been able to wear my hair down since I got the extensions taken out. My poor hair is
still falling out like crazy… it's so thin I can't even wear it in a ponytail, I feel like I will be bald soon.
I'm so scared, nobody seems to understand. My best friend and my family just tells me to cope with it like its no big deal. I feel like I have no where to turn. That's why I was so glad I found this forum…I really sometimes feel like I'm the only one experiencing this and it's comforting to hear everyone's story. I'm not sure what to do with myself, I hate going out, even going to school because I just feel so ashamed…I don't even know where to start looking for a wig around here (I'm from Portland, OR). And I feel like seeing another doctor would also be pointless. Anyways, Thanks a lot for listening to my story.
~Veronica
*******************************************************
Dear Veronica,
Thank you for writing and sharing your story, I'm so sorry you are having to go through this. It probably is of mild comfort, but know you definitely are not alone and there are A LOT of women who start to lose their hair at young age. Who knew? I definitely didn't until I started going through it. Here comes my usual disclaimer I provide on every question I respond to. I am not a doctor and cannot provide medical advice or treatment, this is just my opinion. Ok…
After reading your story I have so many questions. Did your dermatologist put you on Rogaine, Spiro and Yasmin all at the same time? You said you are 20 and have been experiencing hair loss for 4 years, so you started losing your hair at 16 and saw your doctor at 18. Did he provide any explanation as to what might have trigged your hair loss at such a young age? You stated that after a year the medications did nothing, but you didn't say whether or not you stayed on them or took yourself off. I'm curious because if you took yourself off after a year and the following year noticed a rapid decline in your hair, then perhaps the drugs were doing more than you thought. Sometimes all the drugs can do is slow the hair loss process down and help you maintain the hair you have,. Not all women experience a phenomenal regrowth after treatment. Even after I started treatment, I never regained the hair I had and was pretty convinced the treatments weren't working so I eventually took myself off of aldactone around 2003… I think. The dates get fuzzy. Anyways, my hair loss increased dramatically. That could have just been from getting off the drug and it may have re-stablized eventually, but that scared me enough to get back on. Not only did I get back on aldactone, but when I got back on, I had my dose increased from 100mg to 200mg a day.
If you would have asked me then about my hair, I would have complained about the hair I once had and that it was so thin and continuing to fall out. But looking back it was doing fairly well after the 200mg increase. [click to continue…]
{ 49 comments }