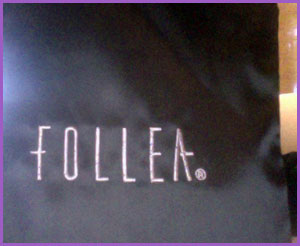 This past week has been a busy busy wig week. Last Sunday I went to Milano Wigs in Los Angeles to buy the WiGrip. The WiGrip is this handy dandy little strap that ties around your head like a comfy headband and keeps a wig in place without the need for clips or a comb. Amen! I kid you not, this little invention is amazing. I've seen several other similar grips online, they all look the same and probably function exactly the same as well.
Whilst at Milano Wigs I was taken in by the massive amount of wig supply they had there, a showroom filled with a ton of wigs that you can just try on by yourself. At first I felt awkward, out of place and a bit timid, but pretty soon I was flinging those bad girls on my head left and right. I think the plastic wig head fumes got to me and I ended up purchasing 2 wigs, that quite frankly are likely not going to see a lot of wear time. The wigs are quality wigs, don't get me wrong, but the color isn't exactly right for me and they don't look as good on me as my Freeda Wig (Rina), or my new Follea Wig… but more on that later.
I think what is pretty fantastic about Milano wigs is their partline, sharp and distinct, they look amazingly real. Also it doesn't have that knotted tight hairline problem which I experienced with Rina. It lays quite flat and looks very real. I also found out that this shop does coloring, cutting and repair on any wig, not just wigs purchased from them, so I ended up taking Rina in to try and have the hairline knotty bundle smoothed out and perhaps be made to look more natural. I get her back next week, so we'll see how that goes. I am thinking I might also have Rina colored to better match my hair color and also have some long side swept bangs put in.
I've been on a wig rampage, determined to find that perfect, ah hem.. "hair enhancement" aka wig. I was quite interested in seeing two particular brand of wigs because of their reputation for quality and awesomeness, Follea and Flora Wigs. Flora is located in NJ and also in NY and since I'll be in that area soon I thought I would take the opportunity to set up an appointment with Flora which I did do, but ultimately ended up canceling it this past week because I bought a Follea wig and there really isn't room in my budget for two wigs in this type of price bracket, but I'm still very interested in checking out Flora's wigs at some point. I'm curious how it compares with Follea and what the pluses are to each of them. [click to continue…]
{ 28 comments }