I received this email and am posting the question, and my response in case it can perhaps help other women confronted with the same situation .
Hi – I just came across The Women's Hair Loss Project. We are desperate. My daughter's situation sounds similar to yours. She's been on Loestrin for 4 years – since sophomore year in college. Her hair has started thinning, and lately, it's accelerated to where her part is very wide, her hair is very thin, the top of her hair pretty bad. All doctors said blood work fine, it's female pattern hair loss, start rogaine 5%. She's so desperate that she finally agreed to listen to me and go off the Loestrin but wants to start ortho tri cyclen (sp?) because doctor [Doctor name removed] said it's a hair protectant. So she's planning on starting that and the Rogaine at the same time. We are so scared. Something doesn't feel right. I'm afraid for her to do both at the same time because if something goes wrong, we won't know which. I think she should get off BCP pills completely. Just want to hear your opinion. Please. Look forward to hearing from you. Thank you!!! -S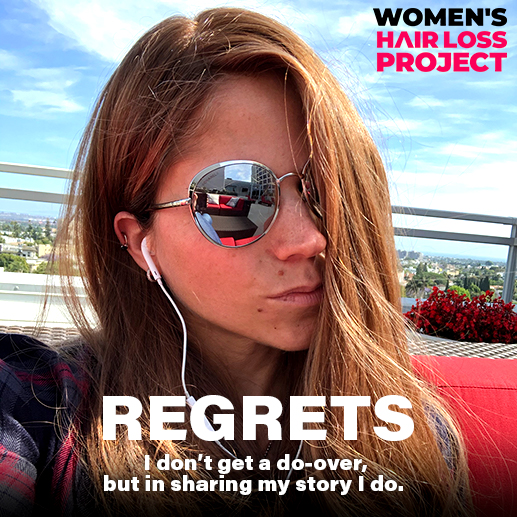 Dear S –
I should state what I think is already known… but just in case, I'm not a doctor – My experience with hair loss is living with it for 21 years and going to great lengths to find an answer to this problem, treat it a number of ways, and along the way deal with the sufferings it brought, disappointments and regrets and having it be one long ass journey to trying to find myself again. 
It has been awhile since I have answered an email as post, but yours stood out to me and I wanted to provide my thoughts as you had asked for, and in the process put this as a post so that others may be able to potentially benefit from it as well.
This is a tough situation, as I think many situations are when dealing with hair loss and any decision seems terrifying and also we get to a place of desperation where we can allow that to cloud what may be (or not) the right judgement we need for making the best decision for ourselves.
One thing about hair loss is there is no one size fits all, although I think most doctors just treat it that way. It is very typical for a woman with hair loss to have all blood work come back as normal, frustrating, but super common. I think it's the one time in our life we are praying something appears on that blood work panel that we can point to, treat and get this uncontrollable situation, under control again. It is disappointing to find out we are (on paper) seemingly normal.

Who knew normal could be a disappointment, it is.
My thoughts on treatment are based largely on what I did, but also what I wish I would have done differently – and the knowledge that in sharing my story on my site, and what I wish I would have done years ago, I know some women read my story, took the road I wish I travelled, and it worked out for them. Not in massive numbers (that I am aware of ) but a couple I can think of, and that was enough for me to wonder if I really did screw myself over and realize there is legit validity in waiting before rushing to treatment.
I think I sighed and did an eye roll simultaneously reading that birth control pills are still being offered up as a hair protectant. Again, I'm not a doctor, but in my desperation, I fell in this trap and regretted it – big time.
[click to continue…]
{ 1 comment }