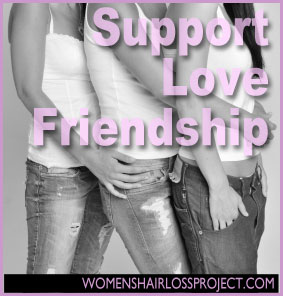 Lina sent me this post to share with you. If you haven't followed Lina's journey you can read her other posts here. 
So three wig wearers walk into a wig shop…
Just an update as my one year anniversary approaches of wearing hair full-time (sorry this is a little long).
I have posted a few blogs on this site and have found a wealth of encouragement, inspiration, and compassion on this site – a real sisterhood. After "suffering" and I know you know when I say "suffering" with HL for 25 years; the gamut of emotions: self-loathing, anxiety, depression, hiding from life, feeling like the future is hopeless, feeling somehow less and unworthy, scared, a ball of negativity, my old self gone and the list goes on.
Well, timing would have it a whole lot of "life" was added to my load last year and the final monumental shed happened – I call it the point of no return, time to deal. Luckily, Y – our fearless leader, was completely entrenched in her wig search and shared everything: highs, lows, amazing hair videos, even how to wash them. I couldn't help but let her energy sweep me up in a vortex of possibility. So long story short Aug. 17, 2012 I shaved my head and forced myself to wear my "just in case" wig that had been in my closet for two years. I won't go into details as I blogged about my shave and hair wearing beginning or I will keep you girls here for days

Slowly starting to accept this as Lina 2.0, I started feeling less chest tightening, accepting the occasional outings that would have me in public – gasp, the thought! Even my reflection (while wearing hair) in the mirror – still difficult to make the non-hair wearing eye contact. Guess what? I started laughing again, a little at first – what strange noise is this? My sense of humor started to creep in, people were commenting on a very positive change in my spirit and low and behold they wanted to start hanging out with me again – besides my hair loss I was most afraid of was losing myself.
Truthfully I was ignorant of the amazing quality and numerous options available to hair wearers – I thought I was going to be stuck in some sort of sweaty, plastic head piece with clown costume hair. I will say I fought wearing hair, I wore a frown and swore at her when I took her off at night – this lasted a few weeks until I decided that it was ok to make friends. I also started to get used to her and then pick apart the rest of my "numerous flaws" – like I wasn't allowed to feel good about wearing hair or me because something else has to be wrong? Boy, oh, boy – what a completely non-fun roller coaster this HL truly is.
So back to the WHLP – my salvation, truly! You girls supported me, encouraged me and gave me strength. A forever grateful thank you to Y – my mentor

and a couple of other girls who really took me under their wings – love you! I pretty much feel all the women here are ah-mazing, and I actually forged a pretty unbelievable friendship with a couple of ladies here – my forever friends now, I just know it

I have an extremely small circle and I can honestly say that I have never had a friendship like I do with these women. Guess what? We decided to meet – miles and miles apart, hell Countries apart and we met in NYC for the first time last month. Oh my, it was instantaneous – non-stop laughing. 5 minutes in, I'm like "want to see my wig cap"? Pop I go – pop she goes and pop so does she! Let me tell you, only and handful of my family have ever seen me without my wig and only once. I felt completely at ease with the show and tell. Well it was all up-hill from there. The entire few days spent I remember thinking to myself a number of times – wow these women are so amazing, so funny, so beautiful and I never thought: gasp – hair wearers! I remembered how we met but I only saw them

Then I thought, well if I see them like that, then maybe others see me like that? What an eye opening realization – a monumental 'aha' moment that is going to only soar me into my hair wearing future and acceptance of what makes me, me.
Remember my idea of wigs? Let me bring you to the title of this blog. We decided to walk into Milano's wig shop to try on wigs and check out colours in person. We were lead into the back and there were two employees and one customer in there and a whole lot of heads with hair. The one worker was quite brisk and very unapproachable (that's a blog in itself), well after a few minutes off comes my wig, then the other two girls, we tried things we liked and colours we knew would be totally wrong but boy that was pretty funny. The lady is staring at us with her mouth dropped open and then she says: "when you girls walked in, I was like what are you doing in here?" then she said you took off your wigs. Damn, those are some fine pieces! We fooled a wig seller! Finger snap and hair swish

This approaching one year of hair wearing has been full of challenges and many highs and lows. Many more challenges ahead, however I started actually living my life and am realizing that it is okay to smile, to laugh, to live all the while wearing hair. I am not less, I am worthy and possibilities abound. It is okay to accept me for who I am and who I am not. I still find my biggest challenge to be me – but I am so working on it and I'm not doing it anymore huddled up in a ball crying and hiding.
I want you to know we are all more and life is definitely worth living. Have a super happy day – you just try to wipe the grin off my face

xo
Join the Women's Hair Loss Project Network to meet other women
with hair loss. Share your thoughts, comment, rant, rave, laugh, cry…communicate.
Click To Join
Just Launched –
Join the NEW Forum
for The Women's Hair Loss Project. If you are already an existing member of the
Network
then you already have an account set up and will need to use the Reset Password link to enable your forum account.
Click To Join