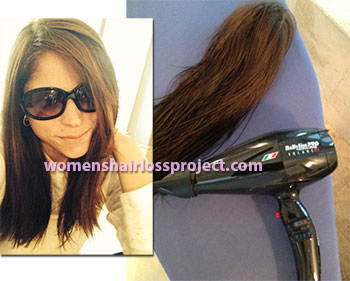 Everyone has their own way of tending to their wigs, how they wash and dry etc. I've done wig washing videos before and for the most part I typically wash my girls the night before they are going to be worn and they will just get the upside down air dry treatment, and by "treatment" I mean pinned to two styrofoam heads upside down LOL. The exception is made with my Follea Aero-2 wig (Mila) which I will always dry right side up because she has more natural volume on the top and drying her upside down just leaves me wanting to sing "9 to 5″ the following morning with my ooh la la Dolly hair. Not that there is anything wrong with that if that is your style, but it just doesn't work for me and quite frankly, it scares my fiancé

Mila is my one wig I do tend to my quick dry the most with. I wash her, blow out the cap, pop her on my head for some extra dry time and then I'm out the door in a flash. Super quick, super easy, nothing fancy here.
Happy Tuesday!
XOXO
Join the Women's Hair Loss Project Network to meet other women
with hair loss. Share your thoughts, comment, rant, rave, laugh, cry…communicate.
Click To Join
Just Launched –
Join the NEW Forum
for The Women's Hair Loss Project. If you are already an existing member of the
Network
then you already have an account set up and will need to use the Reset Password link to enable your forum account.
Click To Join