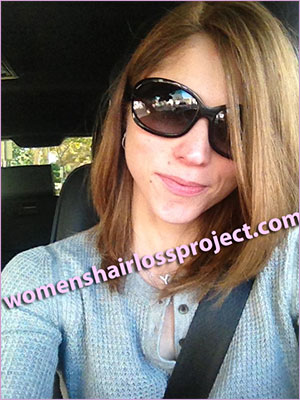 What's better than an awesome wig? An awesome wig with a color touch up! Wigs fade, the color lightens or whatever… I don't know the technical mumbo jumbo other than the color changes over time. I got Natalia (my Follea Lifestyle 5030) in May 2012, and she had lightened up to the point where her color just wasn't working as well for me, so it was quite clear she needed some color-love. I took her to see Vicka at Follea and explained to her how naughty Natalia was, and how her color just wasn't right for me anymore.  I didn't want her to be a totally different color, I just wanted to get her as close to the original color as possible. Vicka suggested that would best be accomplished with low lighting the entire wig, and it indeed proved to be a great suggestion because Natalia is looking slamming hot! I am sooooo happy with how the color came out.
It's really just a subtle difference, but it makes a huge difference in how it blends with my bio hair and looks against my skin color. I feel like I have a brand new wig again, it's awesome! After seeing how supa fabulous Natalia came out I've decided to take Anya back to Follea, so Vicka can work her color magic on her as well. I'll be looking forward to her updated freshened up 2013 color

Join the Women's Hair Loss Project Network to meet other women
with hair loss. Share your thoughts, comment, rant, rave, laugh, cry…communicate.
Click To Join
Just Launched –
Join the NEW Forum
for The Women's Hair Loss Project. If you are already an existing member of the
Network
then you already have an account set up and will need to use the Reset Password link to enable your forum account.
Click To Join