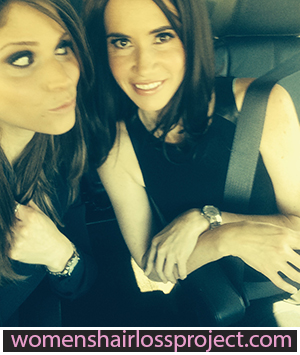 Hi girls. I was planning on making my first trip to Follea in the fall but I had an incredible opportunity to go last week – so, hello, I went! Our lovely admin is piecing together a video on my visit so that I can share that with you (stay tuned). I'm going to post a few more blogs on my visit to LA and how it has helped me with my acceptance and growth but I want to share my Follea visit because it is about, well, hair (mostly anyway, haha).
Without going through my l-e-n-g-t-h-y journey to finally get to the hair wearing phase (cuz, you'd be missing at least a week of work!) I'm going to go straight into why I travelled almost 4,000 km to go to Follea.
I am two years into wearing hair and I would say one year in completely being used to my new normal, normal being wearing wigs full-time. I have been through a number of pieces that, looking back, were great to start but as I grew in my journey, I felt my hair-wearing needs changed. I would have to say to finally get to the stage of accepting that my hair was leaving me and that I needed to re-gain my life, was a very long, painful, sad, arduous journey. Phase 2 of the journey was getting used to wearing hair, any hair – it was just as difficult in its own right but thankfully not near as long. I know that lots of women here on the WHLP have echoed the same sentiments but I cannot stress it enough, cut yourselves a break ladies, hair loss sucks and she's a tough one to plow through.
Fast forward, so I am at the hair wearing stage and what has happened in two years? Well, I went from toppers, to shaving my head, wigs, letting the hair grow in (cuz, somehow it was going to re-grow in thicker and much better, pfff) to shaving, to regrowing to finally shaving and keeping it shaved as I feel, in my case, I'm not fooling anyone and I look "healthier" in a shaved head. So, accepting my shaved head I began to think why not try a gripper and get rid of the wigrip? I never would have heard of Follea if it wasn't for WHLP and let's face it, Y rocks some killer locks, so I began to investigate. The more I stalked the Follea web-site and watched pretty much all their gripper videos – I decided, well if this is my fate (to wear hair), let's see if I can get THE hair and THE comfort to take me through life. [click to continue…]
{ 23 comments }